If there's something a business can't ignore these days, it's the social media. All the businesses should be present at social media as it's the way to reach out and communicate with their customers, increase awareness and boost their sales – after all, there are more than 3 billion social media users worldwide so it's better to take advantage of that!
Social media has significantly changed the way people and organizations communicate and interact with each other (Ngai, Tao & Moon, 2015). Social media allows businesses to communicate with their customers in a more personal level which helps to build stronger relationships with them. Interacting with customers creates better engagement and value for the customers. Because of this, interacting with customers should be also included in the company's social media marketing plan. But what can you do to effectively interact with customers on social media?
Be where your customers are
To be able to interact with your customers, you need to be where they are. This requires knowing your customer. When you know who your customers are, you'll be able to figure out how to reach them and identify the right social media channels to use. So, there's no point on being on every social media channel there are available but instead, focus on the ones that matter the most.
Be easy to find
When you have chosen the right channels to be at, you should make yourself as easy to find as possible. You can achieve this by using simple profile names, relevant profile pictures and hashtags that relate to your business. Also, you should add links to your social media accounts on your company's website.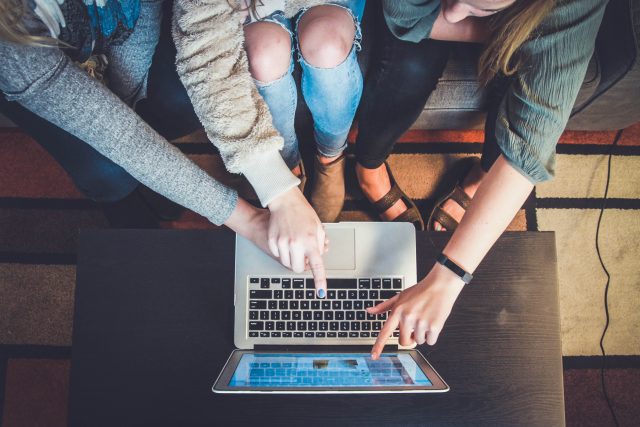 Post interesting content regularly
Don't just make your content about sales and product promotions but instead try to provide value for your customers by posting interesting and entertaining content. Think about the following questions; What interests them and brings more value for them? What kind of content would attract attention?
Also be sure to post a variety of content – photos, videos, link shares, contests etc. Post user-generated content to make your customers feel more involved. Use storytelling as a way to increase engagement and attention. Ask questions and feedback. And remember to post regularly.
Be responsive
When thinking about better interaction on social media, one of the most important aspects is the communication and responding to your customer's requests, suggestions and messages. Consumers expect to get fast responses when leaving their comment on social media. That's why you should try to reply to them as quickly as possible. Reply to all questions, comments and feedback – both positive and negative ones. In this way, you can create better relationships and improve brand loyalty.
Show yourself – "behind the scenes"
People want to connect and interact with other people. Therefore, it would be a good idea to show the people working behind the company's social media profiles – and not just the ones who are dealing with social media but other employees as well. For example, you can post pictures of the staff, introduce the team members and reply to comments with your name. This builds trust and reliability.
Reference:
Ngai, E., Tao, S. & Moon, K. 2015. Social media research: Theories, constructs, and conceptual frameworks. International Journal of Information Management. 35(1), 33-44.