The second day (Read about the first day here) of DTTT was all about technology and digitalization. What we can learn from data and how we can benefit data in place branding, leading and marketing.
Lead with data. Do marketing with it, learn from it, optimize – optimize – optimize – then do it again.
Head of Telia data technology Tapio Levä gave an inspirational speech on things you can do with data in Finland. Tourism sector statistics have been depended on interviews, surveys and such, where they calculate and estimate overall income to the area. Well, I have some good news: No more guessing! Data that you can get from mobile phones is mind-blowing: You can see e.g. from where the tourist is coming, how long he/she stays in the area, where they go during their stay etc. And most importantly: no more guessing about day visitors which does not stay at hotels: they are included in the statistics as well!  Tapio Levä told us an example from Ed Sheeran's gig in Helsinki – where the estimation was 9 m. € in revenue – from 2 days!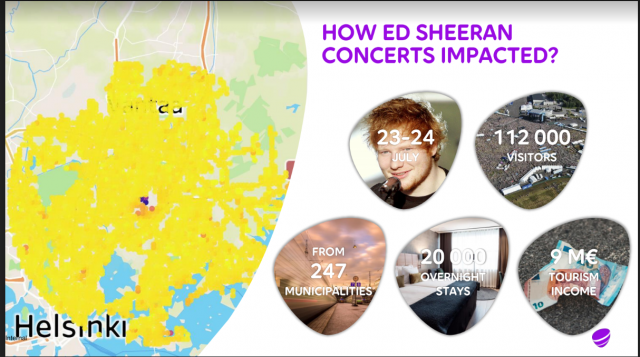 (Source: Tapio Levä's presentation 5.12.2019)
Data gives us access to information what we have not to be able to see before. In discussions throughout the day, it was clear that using data improves collaboration with the stakeholders and it gives tools to understand tourism flows better. By using data, the traveller's customer journey is possible to form from the first idea to get abroad to marketing after the visit. It is essential to learn constantly from your data and optimize your marketing by how your data is changing. E.g. in Benidorm, they understood from data that tourists from the USA are interested in their destination and are talking about it and changes their marketing strategies based on that.
In Ireland, they've put data into some serious work. By utilizing data they've built up a detailed customer journey and touchpoints. In practice, they collect data on how one tourist acts during their stay. Based on that data AI builds customer profiles and recommendations with future tourists with a similar profile. A massive project with 48 m. cookies and 1,5 m. digital touchpoints. WOW!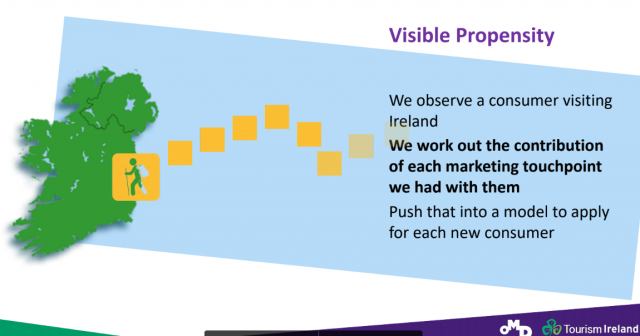 Content is king – Tell a story worth hearing!
As I love great stories and marketing, I want to showcase a few examples heard during DTTT on great stories utilized around destination brands.
In Vienna, they celebrate Ludvig van Beethoven's 250th birthday and Capital of Music –title year in 2020. One way on how they combined LVB's to a digital era, was to combine Alexa with Beethoven.
They did a project, where the integrate a vivid story of Beethoven with Alexa's voice commands. With a command "I want to hear something about Beethoven" Alexa tells a 2 min long story about how he has lived his life in Wien. After one story it gives 3 more alternatives to where to continue with the story. So, it's kind of a book I've read in my childhood where after one chapter you can choose what alternative you take.  Except that you communicate with Alexa and hear the story from it.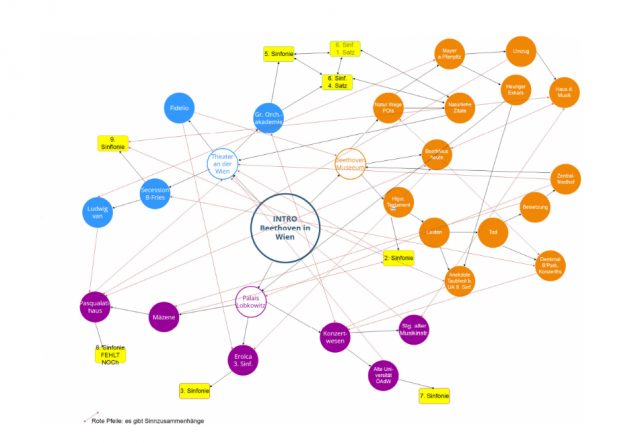 (Source: Andrea Kostner DTTT 5.12 (A model from the storyline plots)
I think that this was a great example of how to build up great stories that combine place history and place attachment with place branding. And I instantly started to think about how could we in Finland e.g. take advantage of this in Jean Sibelius's 160th birthday in the year 2025.. 🙂
The USA also used storytelling by creating unique stories around its destination brand based on the musical history of the country. They collaborated with "minor" actors such as MTV, BBC, and Spotify and let them create content independently around the topic. One result with Daily Telegraph was this microsite where the stories were combined with the evolution of music 
Collaboration with open API
It's obvious that technological solutions revolutionize tourism research and gives huge opportunities to destinations in optimizing and personalizing tourism flows. More importantly, it emphasizes collaboration IN the destination. Today, your business does not exist if you are not on Facebook and you don't have a webpage – but tomorrow you don't exist if you don't collaborate. You don't survive if you do things just by yourself.
tomorrow you don't exist if you don't collaborate.
Collaboration is in the focal point also now in Saimaa – where they try to achieve a title for the European Capital of Culture for the year 2026. To do that they must collaborate with 4 provinces all together – tourism, culture and most importantly, the local people. Digital tools and technological solutions give great tools on achieving this by first collecting data from all the stakeholders in one place and secondly, sharing that knowledge with anyone whose interested. The first thing to create collaboration is that stakeholders are aware of each other. Not just inside one city or just inside one province – but in Saimaa and Finland and the Nordics etc. To gain a competitive advantage you must collaborate and think big.
Conclusions:
Digitalization enables collaboration, it can make collaboration more visible and open via different kinds of platforms. Data provides information on what has been "hidden knowledge" before. This knowledge can be used on planning customer journeys etc. Besides just planning – you can see in real facts how you have succeeded in your plans.  Sharing is caring – no matter if you are a DxO or RMO, tourism stakeholder or just an average Joe. Sharing knowledge with each other creates stories, gives data, creates collaboration, gives a competitive advantage. By utilizing data and technology, that work is more easily done.
2) The second conclusion is that AI is here. We are in the middle of a big change in society where digitalization, automation, AI and robots are already here. There's no use on denying and fearing that robots are taking on the world. Let's face it: we are living in the middle of sci-fi society. When you think about what kind of things we already have, it is something I couldn't dream of in my wildest dreams in my childhood. ( but I'm still waiting for the flying cars!) Instead of living in fear, you have to look forward and figure out ways on how to utilize this efficiently. I think in this sense I saw quite a few good examples on how to utilize data efficiently what it comes to the tourism sector.
That's my view from #DTTT Global 2019, hope you enjoyed it!