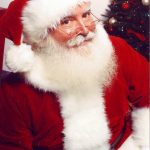 Who is the world's greatest traveller? As the holiday season is about to start we gather to celebrate Christmas all around the globe. Santa Claus has become one of the main characters of Christmas, bringing joy and wonder to kids and grown ups everywhere. However, we rarely realize that Santa Claus is actually the world's greatest traveller. I doubt there is a single person on this planet who would travel more during a year, albeit Santa does almost all his travelling in 36 hours.
A few years ago The Telegraph did some calculations about this magical day when Santa flies around the globe. According to the calculations Santa travels around half a billion kilometers. That is almost 13 000 times around the globe or 32 500 times from Helsinki to Tokyo (8000km) and back. Finnair is the official airline of Santa Claus as Santa lives in Rovaniemi, Finland. If Santa would use Finnair to deliver his gifts, he would get, based on Helsinki-Tokyo calculations in Basic class, he would get around 260 million Finnair points. For 3000 points and 74,52€ you could get a 100€ tax-free award voucher. By this calculation single points is worth 0,95 cents. Surprisingly, Santas points would be worth only little more than 2 million euros. So you won't get rich with these points, not even if you are the world's greatest traveller.
We can also look at the environmental impacts of Santa travelling Finnair. Using carbon calculator and Helsinki-Tokyo calculations Santa would create almost 70 000 tonnes of CO2. Average Finnish household produces 10 tonnes per year, so Santa flying with Finnair would correspond to 7000 households.
We do hope that Santa Claus has figured our an environmentally friendly way to travel the world but until he gives away his secrets we have to stick with more traditional transportation methods for our Christmas travelling. We wish you all happy holidays and look forward seeing as many of you as possible next year in Joensuu!